TdS 2021 Schlafly beer winners announced
May 6, 2021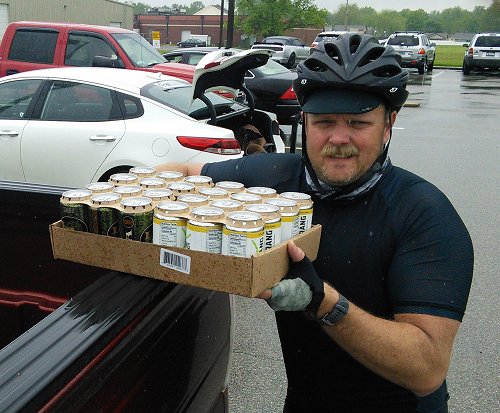 LEBANON, IL - Matthew Reddick of Mascoutah, IL, took home a case of Schlafly beer as a winner in Gateway East Trails' giveaway at the Tour de Stooges bike event held May 1, 2021, at McKendree University in Lebanon, IL.
Reddick was one of the lucky 12 who registered early for the Tour de Stooges and received a case of Schlafly beer, donated this year by Gold Corporate sponsor Schlafly. Gateway East Trails, the non-profit group which puts on the annual Tour de Stooges, awarded 3 cases in February, March, and April.
This was the first Tour de Stooges for Reddick, who said he would come again next year -- "especially since you are awarding beer," he laughed. Reddick said he biked 63 miles at Tour de Stooges "but might do the century next time."
Other winners awarded Schlafly beer are:
Frank Rogers of Belleville, IL
Annette Schnabel of Farmington, MO
Ronald Giljum of Barnhart, MO
Melissa Chatfield of Arnold, MO
Marc Packer of Mascoutah, IL
Cary Sheerin of Caseyville, IL
Frank Skiles of DeSoto, MO
Jean Sumner of Kirkwood, MO
Richard Schrenker of Chesterfield, MO
Jennifer Cochran of O'Fallon, IL
Marion Lollis of Shiloh, IL
< Back to Latest News
Help build trails in southwestern Illinois by donating to Gateway East Trails. Your donation is tax deductible.
© Gateway East Trails